Date/Time
Date(s) - Sat, Apr 15 2017 - Sun, Apr 16 2017
9:00 pm - 2:00 am PST

Add this Yuri's Night to my:
Google Calendar
Other Calendar
Event Website: http://fb.com/178635072656845
Location
Hawthorn
46 Geary St
San Francisco
California
94102

Celebrate the International Day of Human Space Flight at San Francisco's #1 nightlife destination: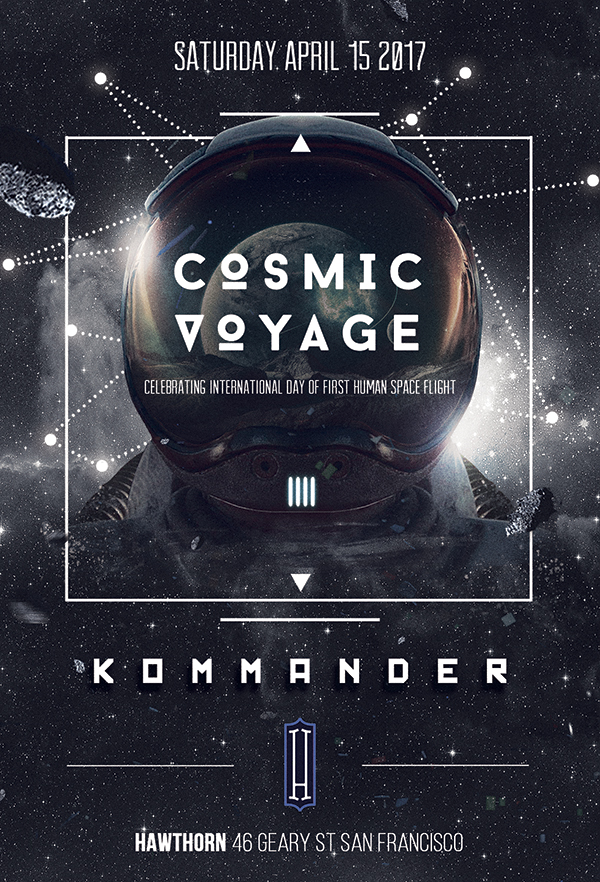 ★ Cosmic Voyage @ Hawthorn ★
This Saturday, April 15th, let us commemorate the First Human Space Flight, one of the greatest triumphs in human history! On April 12, 1961, a Soviet cosmonaut Yuri Gagarin became the first envoy of humanity to outer space when he orbited the Earth on the Vostok-1 spacecraft in a flight lasting 108 minutes. 
56 years have passed since that amazing Cosmic Voyage, but the legend of Gagarin's courage and journey to the "final frontier" continues to be a source of inspiration for space exploration for peoples and nations around the world.
Join us at San Francisco's hottest night spot for the very best in dance music, top-notch production, Hawthorn's famous go-go dancers, amazing visuals, vibrant energy and beautiful people! 
♫ Your Starship Music Navigator for this Cosmic Voyage will be DJ Kommander (house/pop/EDM)
+ a resident DJ in the Bonaparte Room (hip-hop/top-40) 
☛ FREE Guest List & All Night Tickets: SpaceHawthorn.eventbrite.com
☞ Info: fb.com/178635072656845
✪ BIRTHDAYS | BOTTLE SERVICE | VIP TABLES: ✪
Packages start at $300 per table & include a bottle of premium liquor of your choice, free juices & mixers, your personal waitress, free entrance & cutting all lines for your whole group of up to 6 people!
Make the most out of your special night with friends or birthday celebration by reserving a VIP booth with personal bottle service at Hawthorn for you and your guests!
☛ Reservations@HawthornSF.com, mention RevSF for exclusive discounts and custom packages | ☎ (415) 969-0196
 ________________________________________
♦ GUEST LIST rules:
FREE before 10:30pm
Discounted all night after 10:30pm
☞ Don't forget to mention RevSF guest list to avoid paying full price at the door!
To guarantee FREE ADMISSION, we recommend ARRIVING EARLY
If you don't think you can make it by 10:30pm, consider buying a $10 all night presale ticket: SpaceHawthorn.eventbrite.com
Saturday, April 15, 2017
Doors 9pm: Social Mixer
Music 10pm: Yuri's Night Dance Party
21+ with valid ID | Dress to Impress!
Hawthorn
46 Geary St
San Francisco, CA 94102
________________________________________
Join us for this unforgettable Celebration of the First Human Space Flight and spread the word to all your friends!